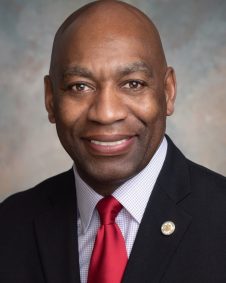 Fitzgerald Washington
Secretary of the Department of Labor
Fitzgerald Washington has served as secretary of the Alabama Department of Labor since 2014. During his tenure, the department has launched a statewide marketing campaign, initiated a new job fair initiative that brings available jobs to Alabamians and has participated in a new alignment of workforce regions that allows for better distribution of state workforce resources.
Washington has served on the National Association of State Workforce Agencies (NASWA) Board of Directors as chair-elect, chair and past chair.  He is also a member of the National Association of Government Labor Officials (NAGLO), where he serves as president.
Washington is a member of the Alabama Workforce Council, the Alabama Small Business Commission, the State Workforce Development Board, the Alabama Bicentennial 200 Commission, the Alabama Pandemic Response and Preparedness Commission, the Advisory Board for the Governor's Office of Minority Affairs and the Buffalo Rock Company Board of Directors.
Prior to his appointment as the secretary of the Alabama Department of Labor, Washington worked for The Buffalo Rock Company for 15 years, serving as the corporate marketing and sales director handling the company's multicultural marketing initiatives before being promoted to general sales manager in 2002.
Washington has served as a past chairman of the Chamber of Commerce of West Alabama, where he helped create the Minority Business Council to foster growth and competitiveness of minority-owned businesses in West Alabama. Other community involvement includes the Boy Scouts of America/Black Warrior Council Board, Truist Bank Advisory Board, Board of Visitors for the University of Alabama College of Continuing Studies and DCH Health Systems Foundation Board of Directors.
Washington, his wife Peggy, and their children Karla and Fitzgerald reside in Tuscaloosa.