Department of Corrections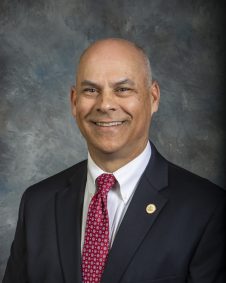 John Q. Hamm
Commissioner of the Department of Corrections
Governor Kay Ivey appointed John Q. Hamm as commissioner of the Alabama Department of Corrections (ADOC) on January 1, 2022. Commissioner Hamm brings more than 35 years of law enforcement experience into his role as commissioner of the ADOC which is the state's largest law enforcement agency.
Commissioner Hamm is responsible for 15 adult correctional facilities, 10 work release centers, and one community work center across the state while managing an inmate population over 19,000. He employs a workforce of more than 3,300 correctional personnel and support staff. Commissioner Hamm oversees Alabama Correctional Industries and operates on an annual budget exceeding $600 million.
Prior to his appointment, Commissioner Hamm served in leadership roles during his seven-year tenure at the Alabama Law Enforcement Agency (ALEA). Commissioner Hamm joined ALEA as its governmental relations manager in 2014, followed by his appointment as ALEA's State Bureau of Investigation director by ALEA's Secretary Hal Taylor in 2018. Most recently, Commissioner Hamm held the position of ALEA's deputy secretary since April of 2021.
Commissioner Hamm's commitment to public safety began when he served as a police department dispatcher while attending college in 1985. Later, through advancements, he garnered city, state and federal law enforcement experience. He was elected as the sheriff of Barbour County in 1995.
During his career, Commissioner Hamm has served as executive director of the Montgomery County Community Corrections and as an associate commissioner at the ADOC, as well as serving with the Association of County Commissions of Alabama and the Alabama Sheriffs Association.
Commissioner Hamm is a graduate of Auburn University at Montgomery where he earned a Bachelor of Science degree in Justice and Public Safety.