Alabama Bureau of Pardons and Paroles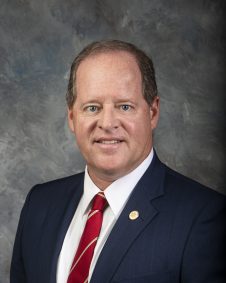 Cam Ward
Director of the Alabama Bureau of Pardons and Paroles
Cam Ward, director of the Alabama Bureau of Pardons and Paroles, was appointed to serve in Gov. Kay Ivey's cabinet on July 28, 2021. He was sworn in as director on December 7, 2020. In this role, he is responsible for all agency operations in support of the Alabama Board of Pardons and Paroles. He also serves as chairman of the Commission on Reentry.
Prior to ABPP, Ward was elected to the Alabama House of Representatives in 2002 where he served for two terms. In 2010, he was elected to the Alabama Senate representing parts of Shelby, Bibb and Chilton counties. He was re-elected in 2012 and served as chairman of the Senate Judiciary Committee, a role he held for nine years. Additionally, Ward served as president of the Alabama Law Institute.
Prior to his tenure in the Alabama Legislature, Ward worked as a deputy attorney general for Alabama Attorney General Bill Pryor and was assigned to the Alabama State Auditor's office where he served as legal counsel. Ward has worked as assistant secretary of state dealing with election laws and corporate filings and worked as district director for Congressman Spencer Bachus.
Ward earned his bachelor's degree from Troy State University in 1993. Upon earning his law degree from Cumberland School of Law, he was admitted to the Alabama Bar Association in 1996. Ward proudly supports his alma mater by serving on the Troy University Board of Trustees, as well as various community boards such as the Glenwood Autism Center, the YMCA of Alabaster, Leadership Shelby County and Prison Fellowship.
Ward is married to the former Lindsey Clements and he has two daughters, Riley and Clements.