Emergency Management Agency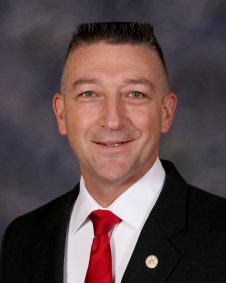 Brian Hastings
Director of the Emergency Management Agency
Brian Hastings was appointed as the Director of the Alabama Emergency Management Agency by Governor Kay Ivey. Hastings was born in 1968, in Germany, to a U.S. Army officer, however most of Brian's youth was spent in the Chicago metropolitan area. It was there, while attending public school, that he developed his desire to learn, serve others and give back to those in need.
Brian's passion for service led him to enter the United States Air Force Academy in 1986 and serve in the United States Air Force from 1990 until he retired as a Colonel on 1 September 2017. Prior to his retirement, Brian served for two years as Commandant of the Air Command and Staff College at Maxwell Air Force Base and previously served as the Commander of the 47th Flying Training Wing. During his military career, Brian earned two Legion of Merit Medals, the Bronze Star for his service in Afghanistan, three Meritorious Service Medals, and served as a flight instructor. He was a command pilot with more than 2,600 hours in attack and training aircraft. He held a variety of positions, including Battalion Air Liaison Officer and Chief of Standardization and Evaluation.
Brian has a Bachelor of Science in Applied Physics. He also earned a Master's of Aeronautical Science from Embry-Riddle Aeronautical University and a Master's of Science in Resourcing National Security Strategy from the Eisenhower School, National Defense University.
In August 2017, Governor Kay Ivey named Brian as the Director of the Alabama Emergency Management Agency and he started his service on September 5, 2017. In less than one week, the State Emergency Operations Center activated for Hurricane Irma to receive and shelter more than 250,000 evacuees from Florida while caring for the needs of Alabamians. The impact of Hurricane Irma resulted in a Presidential Emergency Declaration from the Federal Emergency Management Agency and strengthened enduring partnerships with Florida and the Virgin Islands.
Regardless of Brian's noteworthy career, which includes being a former A10 pilot, he will quickly tell you his greatest accomplishments are at home with his beautiful wife Eileen and three sons—Sean, Jake and Luke. The Hastings also have two additional family members Sophie and Chuy, the family dogs.