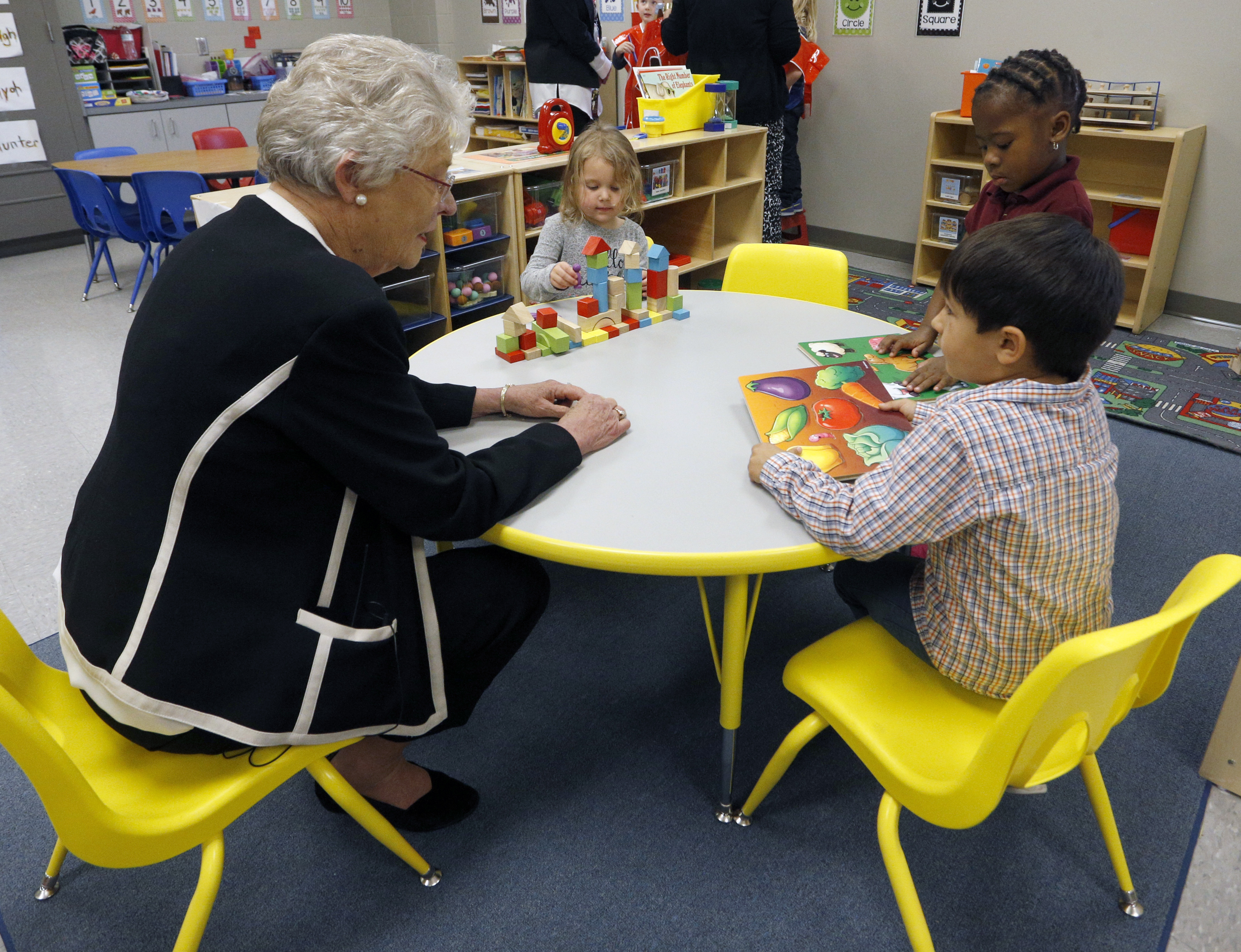 "Strong Start, Strong Finish" Education Initiative
Governor Kay Ivey is passionate about education. She believes it is the key to helping families, creating a stronger economy, and making Alabama the talk of the nation – in a good way.
The "Strong Start, Strong Finish" education initiative will focus on three stages of education: 1) early childhood education, 2) computer science in middle school and high school, and 3) workforce preparedness.
"Pre Through 3"
Every child deserves a strong start to their educational experience. Governor Ivey believes developmentally-appropriate policies will strengthen and support education from pre-K through the third grade ("P-3"). This impacts a child's social, emotional, and cognitive development. Gains made in one year must be reinforced and built upon in the next.
We will ensure every child has a solid base that allows for a seamless progression of learning. Every student will have a strong reading foundation by at least the third grade. The state's investment in continued expansion of high-quality, pre-K classrooms will yield long-lasting results for years to come.
Pre Through 3 Policy Items
Governor Ivey works with P-3 and reading instruction education leaders to create reading proficiency that leads the nation


Governor Ivey supports the P-3 Leadership Academy – the first of its kind in the nation – focused on improving instructional leadership for Pre-K through 3rd grade education


Governor Ivey advocates for continued expansion of Alabama's First Class Pre-K program
"CS for AL"
Governor Ivey will establish a unified vision for the statewide expansion of computer-science education. In Alabama, 4,600+ computing jobs are available today, and it will be one of the biggest job growth areas in the coming decade. The average annual salary for an employee in a computer science (CS) field is over $82,000. Yet, Alabama is not preparing a workforce to meet this labor demand.
A unified vision can help recruit business, lower unemployment, and equip students with the skills to compete in a changing economy. The Governor sought scholarships for students pursuing teaching careers in math and science, and $325,000 was allocated for fiscal year 2018. To help impact the science, technology, engineering and mathematics (STEM) pipeline, the Governor will prioritize STEM and CS education – with a focus on teaching computer coding - to ensure Alabama's students are receiving the education required for a successful career and enriching life.
CS for AL Policy Items
Governor Ivey creates a working group to facilitate the expansion of computer science


Governor Ivey advocates for at least one computer science course to be available in every high school
 
Governor Ivey encourages females to study computer science through "Girls Who Code" clubs
"Advanced Training, Better Jobs"
By 2020, 62% of jobs available in Alabama will require some form of postsecondary education (certificate, credential, 2-year, 4-year degree). Today, only 37% of our workforce meets those criteria.
Governor Ivey will address the education-attainment gap by developing policies and promoting programs that equip citizens with the skills and education needed to fill high-demand jobs. This initiative generates synergies between agencies and helps align investments with state priorities and student needs. By addressing the gap, we will ensure the success of Alabama citizens, keep Alabama competitive among other states, and meet the needs of business and industry.
Advanced Training, Better Jobs Policy Items
Governor Ivey promotes public-private partnerships for workforce training


Governor Ivey addresses the equity attainment gap through drop-out prevention programs like Jobs for Alabama Graduates (JAG)
Governor Ivey supports education pathways for both traditional and nontraditional students