Alabama Office of Minority Affairs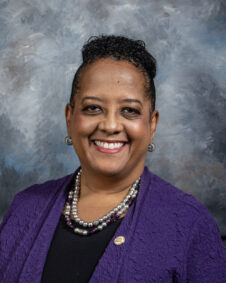 Stacia Robinson
Director of the Alabama Office of Minority Affairs
Governor Kay Ivey appointed Stacia Robinson to serve as director of the Alabama Office of Minority Affairs effective January 1, 2023. In this role, Director Robinson advises the governor in all areas of policy issues affecting women and minorities.
Prior to her appointment, Director Robinson was the agency principal of BeneChoice Companies, LLC and the district manager of Colonial Life Insurance Company. She recently sold her BNI-Business Network Int'l Franchise, which she owned for 25 years.
With expertise in business involvement including employee benefits design and administration, advertising consulting and professional speaking, Director Robinson demonstrated her extensive business knowledge as a contributing author to the New York Times and Wall Street Journal Bestseller, "Masters of Networking."
Director Robinson is actively involved as a director on the boards of Leadership Montgomery, the Business Council of Alabama, Renasant Bank and the Industrial Development Board of the City of Montgomery. Additionally, she serves on the Leadership Council of NFIB and the Alabama Small Business Commission and has held numerous leadership roles on ample community-based and business-oriented boards.
Director Robinson was the first African American female to serve on the Montgomery Area Chamber of Commerce's Board of Directors.
Director Robinson is a graduate of Spelman College in Atlanta, Georgia, where she received her Bachelor of Science degree in mathematics. While earning her Master of Science degree in Counseling and Human Development at Troy University, Director Robinson spent seven years in the Air Force as a communications-computer officer before separating at the rank of captain in 1991.