Alabama Office of Minority Affairs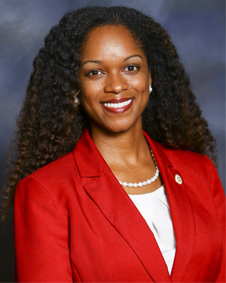 Nichelle Nix
Director of the Alabama Office of Minority Affairs
Nichelle Williams Nix was sworn in as a member of the Governor's cabinet in May 2016, when the Governor signed into law legislation establishing the Governor's Office of Minority Affairs as a cabinet-level agency for the State of Alabama. In this role, Director Nix advises the Governor on policy issues affecting women and minorities, in the areas of economic development, education, health, housing, civil rights, criminal justice and empowerment.
Before joining the Governor's administration, Director Nix was an attorney at Maynard, Cooper & Gale, P.C., in Birmingham, Alabama, where she was a member of the firm's Governmental and Regulatory Affairs practice group. Prior to her arrival at Maynard Cooper, Director Nix served as Executive Director of the Sickle Cell Disease Association of America in Mobile, Alabama.
Director Nix also served as Legislative Counsel to U.S. Representative Artur Davis (D-AL) in Washington, D.C., and as a Healthcare Fellow at the Alabama Appleseed Center for Law & Justice in Montgomery, Alabama.
Director Nix is a graduate of Spelman College in Atlanta, Georgia. She earned her Masters of Public Health degree from Emory University, and law degree from The University of Alabama School of Law.
Director Nix is a member of the Alabama State Bar.