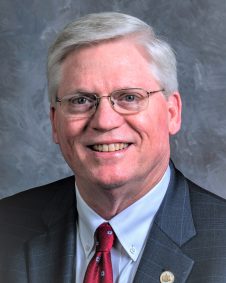 Mark Fowler
Commissioner of the Department of Insurance
Governor Kay Ivey appointed Mark Fowler as commissioner of the Alabama Department of Insurance on July 1, 2022.
As commissioner, he serves as chief administrator for the department and leads it in fulfilling its mission to serve the people of Alabama by regulating the insurance industry, providing consumer protection, promoting market stability, and enforcing state fire safety standards and laws. He also participates in a variety of committees with the National Association of Insurance Commissioners.
Commissioner Fowler joined the ALDOI in February of 2013, previously serving as the deputy commissioner/chief of staff. In that role, his responsibilities included serving as the department's liaison to the Alabama Legislature and a point-of-contact with the governor's staff and other government agencies. He also managed the department's public outreach and media relations program, general administration, special assignments for the commissioner and served as an administrative liaison between the commissioner and each division of the department. During his tenure as legislative liaison, the department has been successful in enacting more than 30 bills and assisting in the enactment of several industry sponsored bills.
A Montgomery, Alabama, native, Commissioner Fowler has developed an established career in government and public affairs, as well as association management spanning thirty-seven years at both the state and federal levels. Before joining the department, he served 17 years as an association executive director in Alabama working with major industries including chemical manufacturing, cable/broadband telecommunications, agribusiness and others. He also served approximately five years in the Washington, D.C. area, first as a legislative assistant to the late U.S. Senator Howell Heflin and then as a congressional liaison for Rockwell International, a major defense and aerospace company. Additionally, he has served as a board member and treasurer of Legacy, Patterns in Environmental Education, and a board member of the Alabama Civil Justice Reform Committee.
Commissioner Fowler has a bachelor's degree in broadcast communications from Auburn University and a master's degree in political science from Auburn University Montgomery. He is married to the former Robin Hackney of Montgomery, and they have one son, John Alex Fowler. They are members of First Baptist Church in Montgomery.