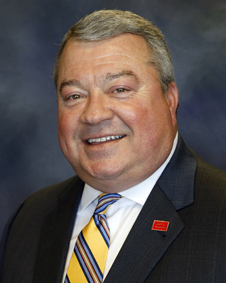 Greg Canfield
Secretary of Commerce
Greg Canfield was appointed as director of the Department of Commerce on July 18, 2011 by Governor Robert Bentley. Prior to joining Commerce, Canfield served in the Alabama House of Representatives as chairman of the Commerce & Small Business Committee.
Canfield entered the insurance and financial services field in 1991 and opened a small business in 1993 marketing insurance and financial products to businesses and individuals. After selling his business in 2008, Canfield joined J.H. Berry Insurance in Birmingham, AL.
Greg began his career in sales with the Fortune 500 Company, Purolator Corporation. He went on to become the Southeast Regional Sales Manager and then Regional Administration Manager with responsibility for the corporate regional budgetary process for the southern region. Canfield later became a National Account Manager for Transus Freight Systems, with responsibility for the eastern region from Alabama to New Jersey.
Canfield attended the University of Alabama and UAB where he earned a Finance Degree in 1983.
Greg married the former Denise Coward in 1983. The couple has two children, Rachel and John.