Governor Ivey Provides Update on Dolly Parton's Imagination Library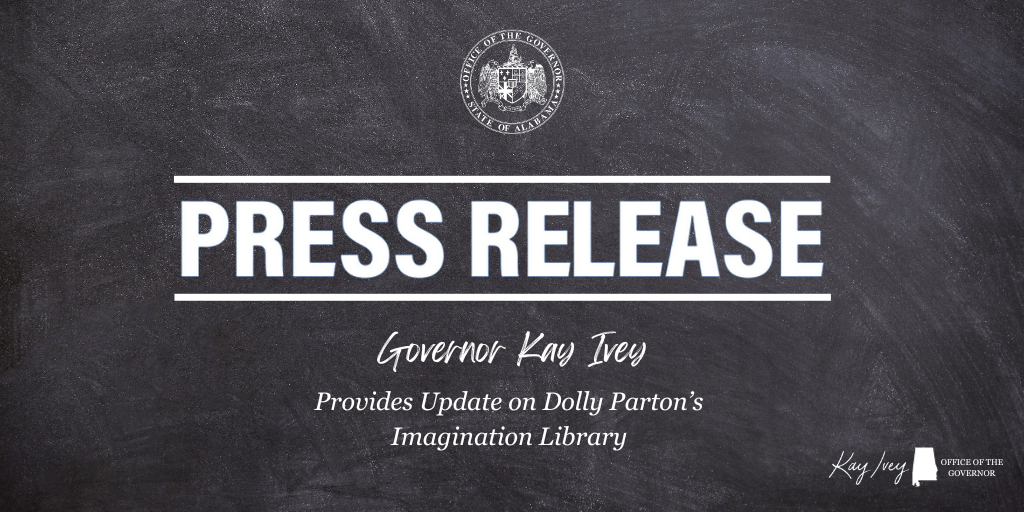 MONTGOMERY – Governor Kay Ivey today provided an update on the statewide expansion of Dolly Parton's Imagination Library (DPIL), announcing it continues to grow steadily, providing free, high-quality books to children across the state of Alabama. Since Governor Ivey kicked off the statewide expansion in August, the program has grown to serving more than 49,000 children.
"I am excited to see the rapid growth and response from communities across the state that are now serving children and families by providing Dolly Parton's Imagination Library in Alabama," said Governor Kay Ivey. "The enrollment numbers are encouraging, but our work isn't done. We still have thirteen counties where the program is not available, and it is my goal for all children age five and younger in our state to be provided coverage."
Governor Ivey's number one priority is ensuring that every child is a successful reader by the 3rd grade. By providing opportunities for every child in our state to interact with books we are preparing infants and young children across Alabama for future success. It starts at home with parents as their child's first teacher and Dolly Parton's Imagination Library makes it possible for parents and families to open a book and read to their children laying that critical foundation.
"We have seen not only steady enrollment growth (almost 10,000 more children enrolled in Alabama since August), but a rapid growth of awareness and interest from local organizations across the state looking to get involved," said Dollywood Foundation Regional Director Kahla Williams. "We thank all the local communities and partners who have stepped forward to help pursue DPIL's mission, and Governor Ivey for the personal approach her administration has taken to grow the program across the state."
Dolly Parton's Imagination Library is dedicated to inspiring a love of reading by gifting free books each month to children from birth to age five. The program works with local program partners to help fund and sustain the program. The state's investment in the Imagination Library is allowing local partners to quickly launch book deliveries to as many children as possible across the state. The books delivered monthly are free to all children and families who sign up for the program.
"We are continuing to collaborate with communities across the state to provide full coverage in the partially covered counties and to find local community partners in counties where the program is not available," said Alabama Department of Early Childhood Education Acting Secretary Jan Hume. "To help bring these final counties on board, funding has been made available to cover the local cost for the first two years of the program that will allow the opportunity for the local community partner to fundraise and kickstart enrollment."
"Several years ago, one of my constituents, Debbie Barclay, approached me asking for the resources necessary to start the Dolly Parton Imagination Library. When Governor Ivey announced she was introducing the Imagination Library statewide, all of Jackson County, especially Debbie, was excited," said state Sen. Steve Livingston (R-Scottsboro). "For our students to have a lifetime of success, we must put books in their hands during their formative years, and Governor Ivey understands that. I thank her for her continued leadership to champion programs that will make a difference for our children."
First declaring Alabama's intent to participate in Dolly Parton's Imagination Library during her 2023 Inaugural Address and following through on her promise with Executive Order 729, Governor Ivey continues to encourage parents to register their children and take advantage of Dolly Parton's Imagination Library in Alabama.
"Dolly Parton's Imagination Library is a grass roots, community-based program. Our goal of serving nearly 200,000 children is within reach and bringing these final counties on board will require strong partnerships and support on the local level," said Governor Ivey. "We can't miss this opportunity to inspire a love for reading and learning in our next generation of Alabamians."
To learn more about becoming a community partner, contact Kahla Williams at [email protected].
To enroll in this program and learn more as it is expanded across the state, visit www.imaginationlibrary.com.
###
About Dolly Parton's Imagination Library
Since launching in 1995, Dolly Parton's Imagination Library has become the preeminent early childhood book-gifting program in the world. The flagship program of The Dollywood Foundation, a 501(c)(3) non-profit organization, has gifted over 200 million free books in the United States, Canada, United Kingdom, Australia, and The Republic of Ireland. The Imagination Library mails more than 2.4 million high-quality, age-appropriate books each month to enrolled children from birth to age five. Dolly envisioned creating a lifelong love of reading and inspiring children to Dream More, Learn More, Care More and Be More®.
The impact of the program has been widely researched and results suggest positive increases in key early childhood literacy metrics. Penguin Random House is the exclusive publisher for Dolly Parton's Imagination Library. For more information, please visit imaginationlibrary.com.
Provided by the Office of the Governor of Alabama | governor.alabama.gov