Governor Kay Ivey Provides an Update on the Statewide Expansion of Dolly Parton's Imagination Library on National Read a Book Day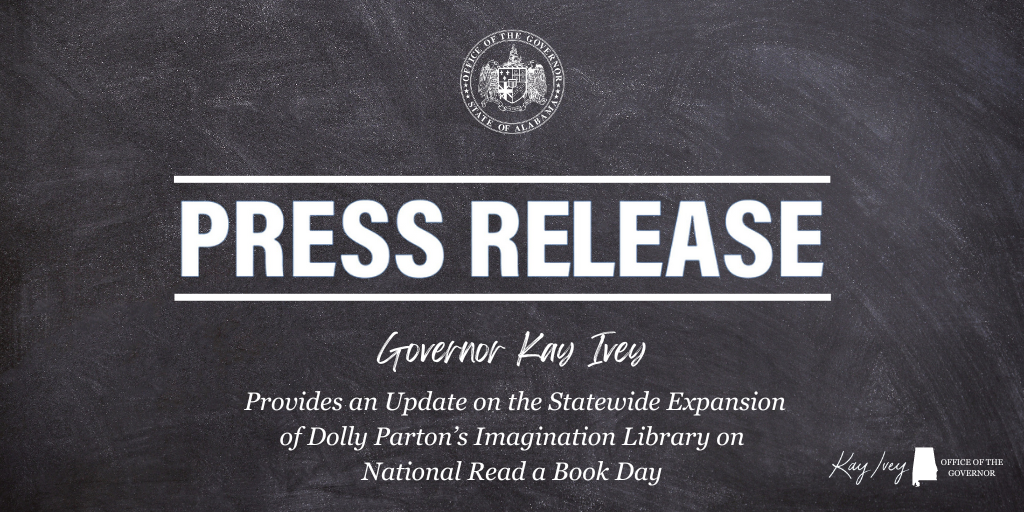 MONTGOMERY – Last month, Governor Kay Ivey kicked off the statewide expansion of Dolly Parton's Imagination Library (DPIL), and the response from parents and community partners across the state has been overwhelming.
Sixty counties are now providing access to Dolly Parton's Imagination Library. With the most recent addition of Cherokee, Chambers and Morgan counties, nearly 10,000 additional children will have access to receive free, high-quality books.
"My number one priority as governor is ensuring that every child is a successful reader by 3rd grade and providing easy access to books is one of our most powerful tools in accomplishing this vital goal," said Governor Ivey. "Through our state's partnership with Dolly Parton's Imagination Library, we are giving parents and caregivers the support they need to excel as their child's first teacher."
Dolly Parton's Imagination Library is dedicated to inspiring a love of reading by gifting free books each month to children from birth to age 5. The program is community-based and works with local program partners to help fund and sustain the program. The state's investment in the Imagination Library is allowing local partners to quickly launch book deliveries to as many children as possible across the state. The books delivered monthly are free to all children and families who sign up for the program.
"As a young child, I experienced difficulty with speech, and books became an incredible source of inspiration during my speech therapy," said state Rep. Debbie Wood (R-Valley). "I will always be grateful for Governor Ivey's commitment to ensuring that books are made available to children in Alabama. Through a partnership with the state and Circle of Care for Families, children in Chambers County are now eligible to receive books.  Lee County was previously enrolled, and now children across District 38 and their families have access to more knowledge and reading materials."
"While the outreach and interest in Dolly Parton's Imagination Library program has been encouraging, there is still much work to be done," said Department of Early Childhood Education Acting Secretary Jan Hume. "To ensure that all children can participate, we are actively recruiting additional local program partners willing to take on the responsibilities of the program. Just as importantly, existing Imagination Library programs in Alabama should be growing their own capacity and registering additional children and families for the program."
First declaring Alabama's intent to participate in Dolly Parton's Imagination Library during her 2023 Inaugural Address and following through on her promise with Executive Order 729, Governor Ivey continues to encourage parents and community partners across the state to expand access and increase enrollment for Dolly Parton's Imagination Library in Alabama.
"As we head into the fall and coming holiday season, I am calling on parents and communities across the state for their support as we continue expanding Dolly Parton's Imagination Library of Alabama," said Governor Ivey. "It will take a robust state and local partnership to ensure we meet the state's goal of serving nearly 200,000 children through the program, but taking this opportunity to inspire a love for learning and reading is one of the greatest gifts we can give our children."
To learn more about becoming a community partner, contact Kahla Williams at [email protected].
To enroll in this program and learn more as it is expanded across the state, visit www.imaginationlibrary.com.
###
About Dolly Parton's Imagination Library
Since launching in 1995, Dolly Parton's Imagination Library has become the preeminent early childhood book-gifting program in the world. The flagship program of The Dollywood Foundation, a 501(c)(3) non-profit organization, has gifted over 200 million free books in the United States, Canada, United Kingdom, Australia, and The Republic of Ireland. The Imagination Library mails more than 2.4 million high-quality, age-appropriate books each month to enrolled children from birth to age five. Dolly envisioned creating a lifelong love of reading and inspiring children to Dream More, Learn More, Care More and Be More®.
The impact of the program has been widely researched and results suggest positive increases in key early childhood literacy metrics. Penguin Random House is the exclusive publisher for Dolly Parton's Imagination Library. For more information, please visit imaginationlibrary.com.
Provided by the Office of the Governor of Alabama | governor.alabama.gov