Governor Ivey Urges Alabamians to Be Ready When Disaster Strikes as September Marks "National Preparedness Month"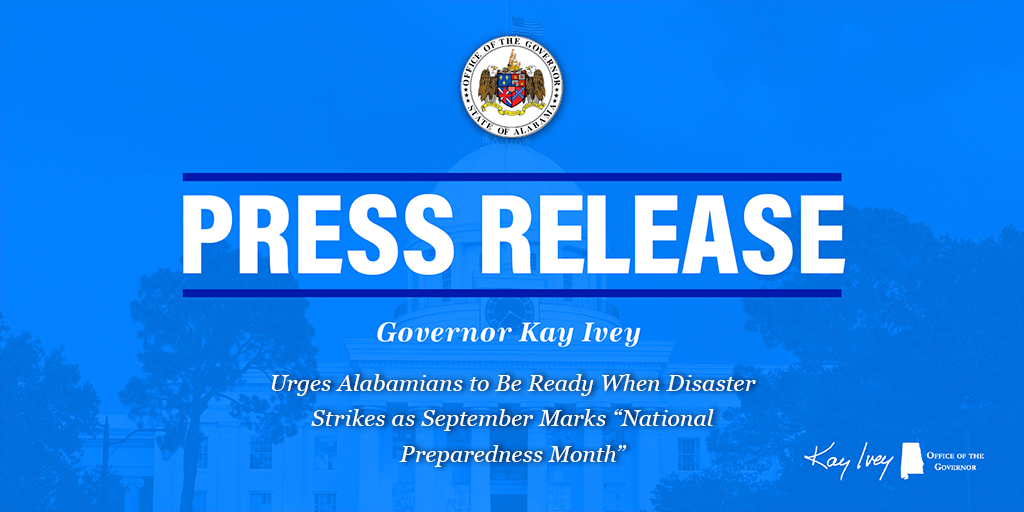 MONTGOMERY – As the nation marks "National Preparedness Month" in September, Governor Kay Ivey urges all Alabamians to have a plan ready for when disaster strikes.
"Alabama is no stranger to the unpredictable and sometimes harmful effects of Mother Nature," said Governor Ivey. "While we cannot stop a hurricane, tornado or flash flood, we can take steps to lessen their impact on our lives and better protect ourselves and our loved ones.
"National Preparedness Month is a good time to focus on making your personal plan to be ready in the event of a disaster, including having access to timely information, the ability to communicate with family and loves ones, and also have a Go-Kit with all the essentials you need if you are cut off from basic services. I encourage everyone to begin their planning well before an emergency strikes," continued Governor Ivey.
"National Preparedness Month is an opportunity to bring awareness on taking action in making a plan by updating and gathering what you need to keep your family safe during a disaster and creating a more resilient community," said Alabama Emergency Management Agency Director Jeff Smitherman. "With the leadership and support of Governor Ivey, Alabama held its first inaugural Resilience Council meeting last week.  The council is a platform for local, state, federal, and private partners to discuss ways to better prepare Alabama's communities to withstand events that result in harmful impacts to its citizens."
The Alabama Emergency Management Agency (AEMA) and the Federal Emergency Management Agency (FEMA) recommend every home have a basic emergency Go-Kit including the following:
-Water and non-perishable food to last for several days
-Cell phone with weather/news apps as well as extra cell phone battery or charger
-Battery-powered or hand-crank radio capable of receiving NOAA Weather Radio alerts as well as local news broadcasts
-Flashlight with extra batteries
-A first aid kit
-Prescription medications and glasses
-Sleeping bag or warm blanket for each person
Equally important, Alabamians should develop and coordinate contingency plans with family and close-by friends if there is a need to evacuate and seek shelter.
"While any time before a disaster is a good time to make plans," Governor Ivey added, "I recommend all Alabamians prepare for emergencies now to reduce the harm they and their families could face down the road.  Plan to be ready!"
For additional information on planning for emergencies, visit the www.ready.gov and https://ema.alabama.gov/.
 ###
Provided by the Office of the Governor of Alabama | governor.alabama.gov