Governor Ivey Announces Special Election Dates for House District 10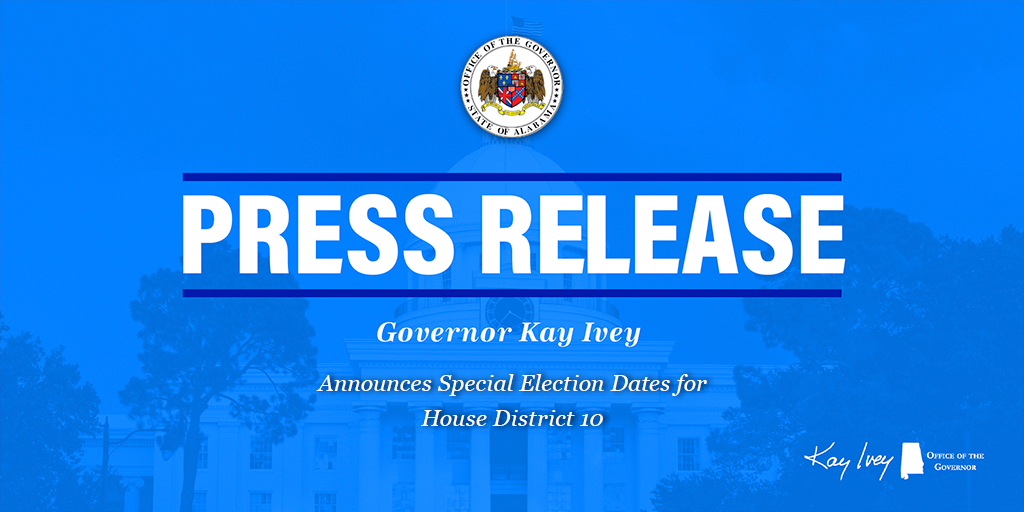 MONTGOMERY — Governor Kay Ivey on Monday signed a proclamation to set special election dates for Alabama House District 10. This seat was previously held by David Cole, who resigned August 30, 2023, and signed a plea agreement providing that he knowingly voted at a polling place where he was not authorized to vote.
Governor Ivey set the special primary election for Tuesday, December 12, 2023; the special primary runoff, if necessary, for Tuesday, January 9, 2024; and the special general election for Tuesday, March 26, 2024.
"The people in House District 10 deserve to be fully represented in the legislative process, and by calling this special election, we will ensure that to be the case. Those in public office must be held accountable and to the highest standard," said Governor Ivey. "I encourage everyone in this district to get out and vote during this special election to ensure you have a strong voice advocating for you in the Alabama Legislature."
The deadline for qualifying with major political parties will be Tuesday, October 10, 2023, at 5:00 p.m. The deadline for all independent candidates and/or minor parties is Tuesday, December 12, 2023, at 5:00 p.m.
House District 10 represents a portion of Madison County.
###
Provided by the Office of the Governor of Alabama | governor.alabama.gov