Governor Ivey Announces Economy Gained 54,100 Jobs in 2022, January's Unemployment Rate Holds Steady at 2.6%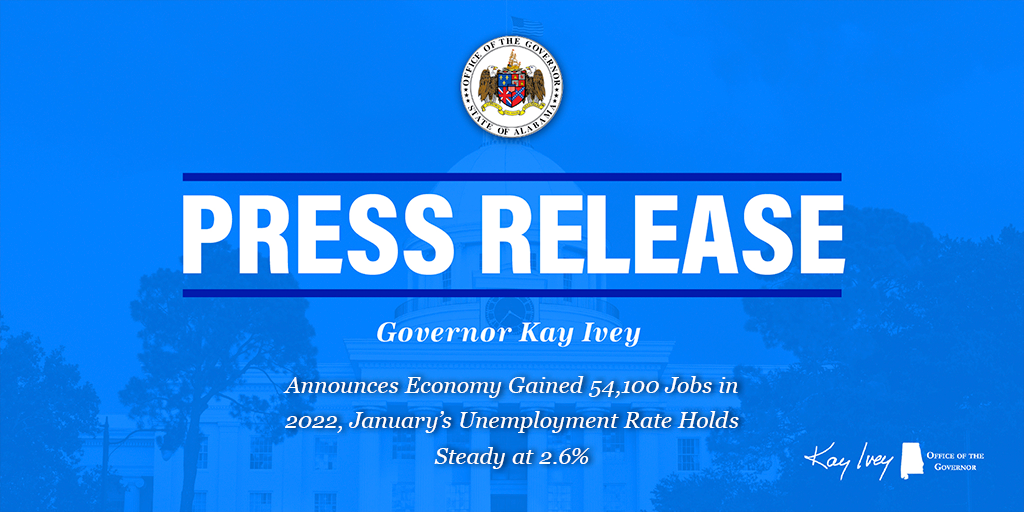 MONTGOMERY – Governor Kay Ivey announced today that Alabama's preliminary, seasonally adjusted January unemployment rate is 2.6%, unchanged from December 2022's revised rate, and also unchanged from January 2022's rate.  January's rate represents 58,411 unemployed persons compared to 59,986 in December and 60,270 in January 2022.
"I'm proud to kick off 2023 with a continuation of Alabama's unemployment rate holding steady," said Governor Ivey. "We have been enjoying a period of low unemployment, high wages, and high jobs count for some time now, and I believe that more is yet to come. We will not back down on our commitment to continue to bring quality, high-paying jobs to Alabama."
Over the year, wage and salary employment increased 54,100, with gains in the manufacturing sector (+10,400), the professional and business services sector (+8,700) and the private education and health services sector (+7,500), among others.
"Additionally, we're continuing to see positive increases in our wages, meaning more money in Alabamians' pockets," said Alabama Department of Labor Secretary Fitzgerald Washington.  "This month, we reached one of our highest average weekly wages in history."
Total private wages increased by $30.12/weekly over the year to $1,008.61 in January, marking the third highest weekly wages in history.
Counties with the lowest unemployment rates are: Shelby County at 1.8%, Morgan County at 2.0%, and Marshall, Madison, Limestone and Cullman Counties at 2.1%.
Counties with the highest unemployment rates are: Wilcox County at 8.8%, Clarke County at 5.9% and Dallas County at 5.4%.
Major cities with the lowest unemployment rates are: Homewood at 1.6%, Madison at 1.7%, and Alabaster, Trussville and Vestavia Hills at 1.8%.
Major cities with the highest unemployment rates are: Selma at 6.4%, Prichard at 5.2% and Bessemer at 4.2%.
###
Provided by the Office of the Governor of Alabama | governor.alabama.gov