Governor Ivey Participates in Ceremonial Groundbreaking for Broadband Projects, Notes Continued Dedication to Expand Broadband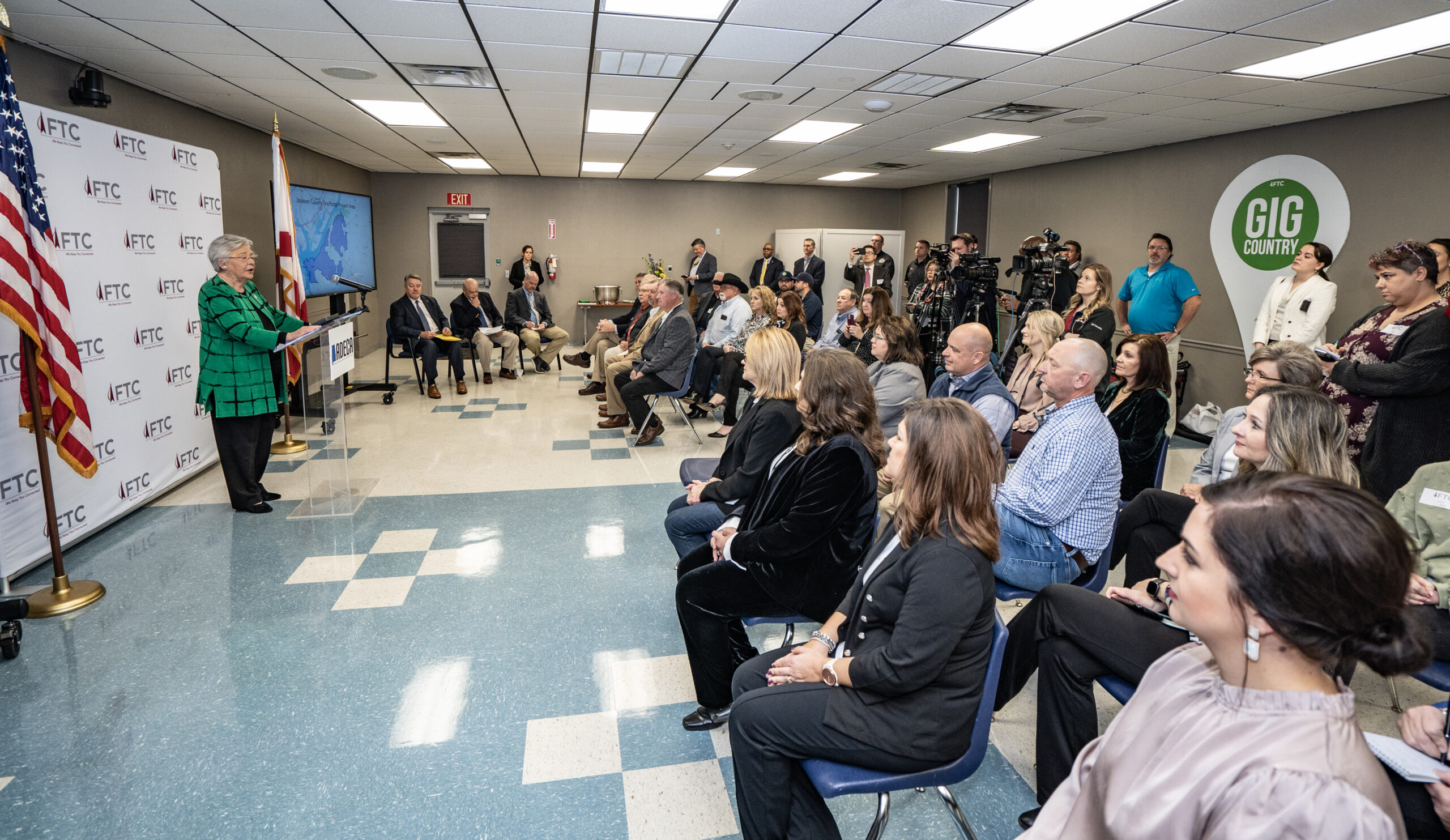 MONTGOMERY – Governor Kay Ivey today participated in a ceremonial groundbreaking for two broadband expansion projects in DeKalb and Jackson counties. These projects are funded by Alabama Broadband Accessibility Fund grants awarded through the Alabama Department of Economic and Community Affairs (ADECA).
"To thrive in a 21st century world and a 21st century economy, broadband must be made readily available so additional job opportunities can be created, education can be expanded past the walls of our classrooms and healthcare services can be improved. The projects underway will bring world class broadband service to the majority of the currently unserved portions in Dekalb and Jackson counties, serving as prime evidence that the state's plan for expanding digital infrastructure is working efficiently," said Governor Ivey. "Providing access to high-speed internet connectivity for Alabamians across every corner of our state has been a top priority during my time as governor, and it will continue to be as we move into these next four years."
The event also included participation from ADECA Director Kenneth Boswell, Alabama Speaker of the House Nathaniel Ledbetter, Farmers Telecommunications Cooperative CEO Fred Johnson, Mentone Mayor Rob Hammond and Jackson County Economic Development Authority President and CEO Nathan Lee.
ADECA awarded these grants in the latest round of Broadband Accessibility Act Funding in August 2022. The two grants total $7.7 million and will provide access to paid broadband service for 2,644 households that are currently unserved in the two counties.
DeKalb County: $3.4 million to provide broadband access to 826 households, businesses and public service institutions in or near the towns, cities and communities of Mentone, Valley Head, Fort Payne, Cloudmont, Cloudland, Union Hill, Moon Lake, Ponderosa, Bankhead, Little River East Fork, Little River West Fork, Oakdale, Sylvania Gap and DeSoto State Park.
Jackson County: $4.37 million to provide broadband access to 1,818 households, businesses and public buildings to include all or parts of the towns and communities of Dutton, Section, Langston, Powell, Macedonia, Davistown, Pleasant View, Hodge and Hancock Crossing.
"Increasing broadband connectivity across Alabama has been a top priority throughout Governor Ivey's administration, and ADECA has been proud to be able to support her as she works to accomplish that goal," said ADECA Director Kenneth Boswell. "Working closely with the Governor, the Legislature, internet service providers and communities to develop planning, mapping and managing grant programs to support broadband expansion efforts in the state leads to results like what we're seeing today in Jackson and DeKalb counties. The mission to expand broadband access isn't a sprint, it's a marathon, and we look forward to continuing to run that race."
"If you want proof that what the state is doing on broadband is working – look no further than the projects currently underway here in these communities," said Farmers Telecommunications Cooperative CEO Fred Johnson. "Almost all unserved and underserved portions of these counties will have broadband access as a result of these projects, and I thank Governor Ivey and her administration for giving us the support we needed to make this possible."
Governor Ivey also announced updates to the Alabama Broadband Map to reflect the latest data with an additional update coming later in January. Available at www.broadband.alabama.gov, the map and the Alabama Connectivity Plan guides the state's efforts and recommends strategies to expand broadband. The map debuted in December 2021 and included months of collaborative work and the participation of 57 internet service providers to give a clear and accurate picture of broadband availability in the state.
Since 2018, Alabama has invested $63.9 million of state dollars through grant awards supporting 100 projects through the Alabama Broadband Accessibility Fund.
Through this program, 22,433 previously unserved addresses now have access to high-speed internet. An additional 39,196 currently unserved addresses are anticipated to have access to high-speed internet within the next two years. Once all Alabama Broadband Accessibility Fund projects awarded to date have been completed, access to broadband service will be available to more than 61,000 Alabama households, businesses and community institutions that currently have no option to subscribe.
The state has committed over $300 million more in state and federal funding for broadband expansion.
In December 2022, with the help of grants from the US Department of Commerce Economic Development Administration and the National Telecommunications and Information Administration, ADECA offered planning technical assistance at the county level through the Alabama Community Broadband Technical Assistance Program. This assistance program will be offered in each of Alabama's 67 counties with meetings in the first five counties held in December 2022.
ADECA administers a wide range of programs that support law enforcement, victim programs, economic development, water resource management, energy conservation and recreation.
###
Provided by the Office of the Governor of Alabama | governor.alabama.gov