Governor Ivey Announces Alabama Campaign for Grade-Level Reading Final Report and Recommendations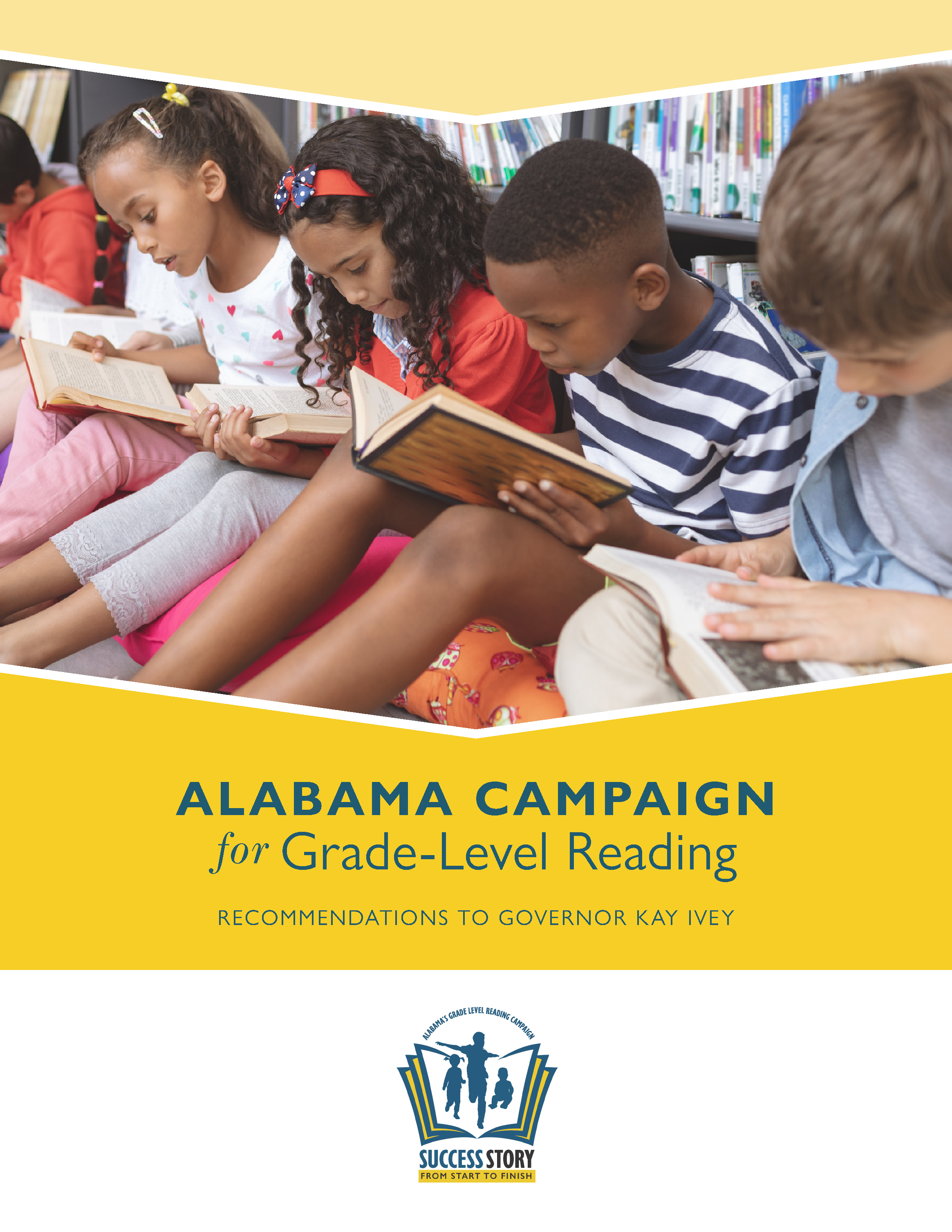 MONTGOMERY – Governor Kay Ivey on Friday announced the final report and recommendations of the Alabama Campaign for Grade-Level Reading. The final report provides recommendations to enhance Birth to Age Eight Systems; Family Engagement; Health and Well-Being; Learning Outside the Classroom; and Special Education, English Language Learners and Struggling Readers.
Governor Ivey and campaign leaders have developed an introductory video with a call to action for the Alabama Children's Policy Councils as they begin their work together of establishing a local, county-level Campaign for Grade-Level Reading to continue this important work in each of Alabama's 67 counties. The local campaigns represent a grassroots effort organized around the common goal of supporting Alabama students in achieving reading proficiency.
"Today I am joined by officers and leaders of the campaign, and we are honored to address all Alabama Children Policy Councils," said Governor Ivey. "Reaching this goal will require the collective effort of every individual in all 67 of Alabama's counties. Your local grassroot efforts to reach our most challenged students in Alabama's classrooms will directly, positively impact literacy proficiency. We are all made whole when the least among us are provided equitable educational opportunities allowing us to thrive academically."
In February 2018, Governor Ivey appointed a diverse, 100-member Executive Team to form the Alabama Campaign for Grade-Level Reading (ACGLR) as a critical component of her Strong Start, Strong Finish education initiative and to assist in establishing local campaigns for grade-level reading. The Executive Team organized a collective framework for success to guide Alabama's efforts in ensuring every single student reads proficiently by the fourth grade, entitled "Alabama Campaign for Grade Level Reading Recommendations to the Governor." The Campaign integrates Alabama's early learning and care, K-12 and higher education, and workforce development efforts into a seamless education continuum for all citizens. This vision becomes accessible for all when every Alabama student enters the fourth grade as a proficient reader.
The FY2021 Education Trust Fund budget approved by the Alabama Legislature provides an additional $26.9 million to improve early literacy and support the implementation of the Alabama Literacy Act, and will focus quality literacy initiatives on the early grades of pre-k through the 3rd grade, reinforcing the achievement gains produced by the nationally recognized high quality Alabama First Class Pre-K program. This includes funding for additional reading specialists and summer and after-school programs. The FY2021 budget also provides $9.8 million to continue supporting early educator training in the science of reading for pre-k through 3rd grade teachers, administrators, and coaches.
The "Alabama Campaign for Grade Level Reading Recommendations to the Governor" are designed to kickstart local campaigns for grade-level reading in each of Alabama's 67 counties. Under the leadership of the Governor's Office of Education and Workforce Transformation in partnership with the Alabama Department of Early Childhood Education, the Campaign will morph into 67 local campaigns through the statewide network of Children's Policy Councils. This approach will allow the Children's Policy Councils to address external issues outside of the classroom, such as childhood health, access to nutritious food, and quality after-school and summer programs that directly affect a child's ability to perform academically.
The Children's Policy Council (designated as the state's Early Childhood Advisory Council in 2015) is an effective organization to spread awareness, build upon community partnerships, and utilize the annual CPC needs assessment surveys to determine priorities, needs, gaps, and areas of strength at the county-level. Alabama's county Children's Policy Councils understand their local challenges and opportunities and will be instrumental in growing local campaigns to include best practices and strategies for supporting literacy efforts at the local level.
###
Provided by the Office of the Governor of Alabama | governor.alabama.gov