Governor Ivey Announces Delta Regional Authority Investment of $1.1 Million to Strengthen Alabama's Economy, Infrastructure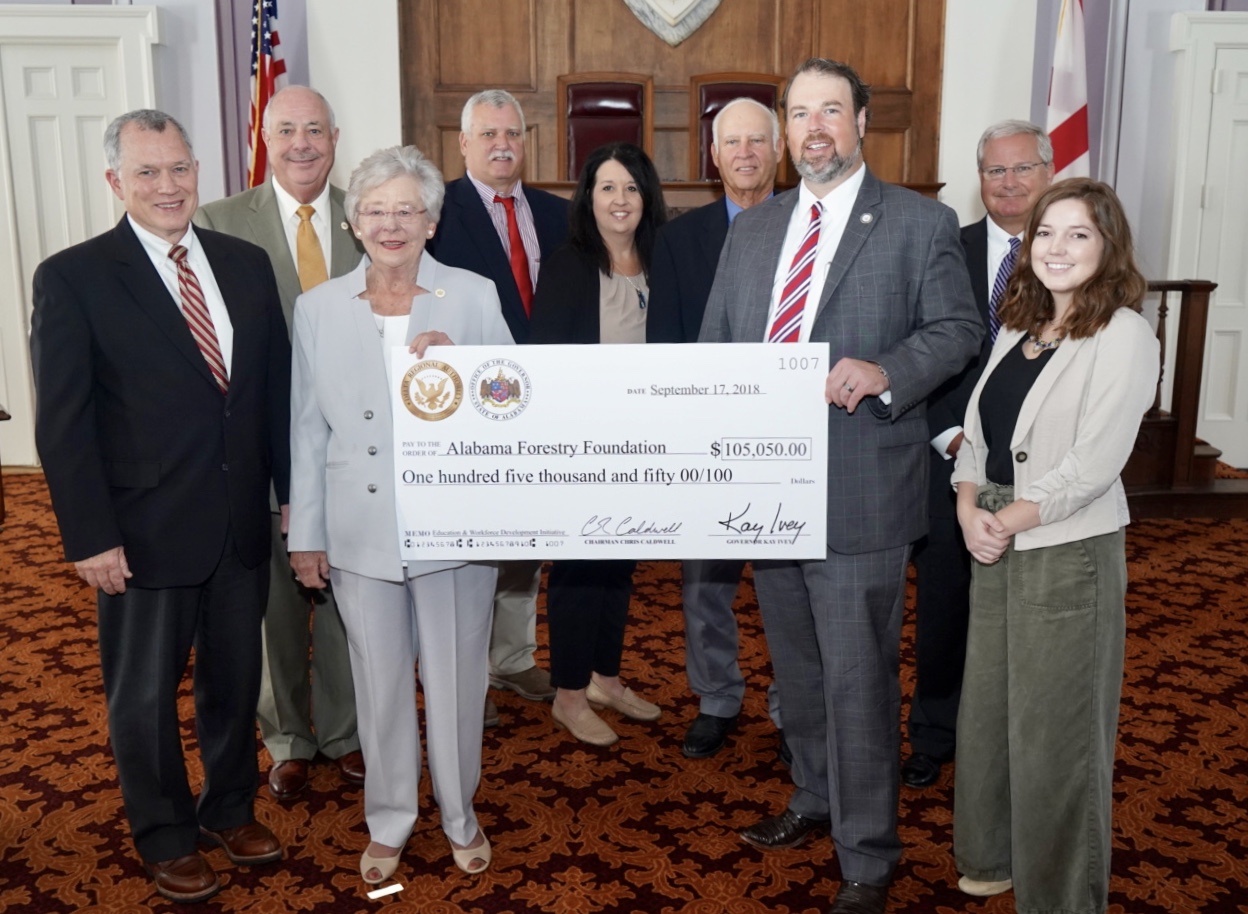 MONTGOMERY — Governor Kay Ivey and Delta Regional Authority (DRA) Chairman Chris Caldwell announced that DRA will invest $1.1 million to enhance workforce training and development, help create technology jobs and deliver safe drinking water to the Black Belt region. DRA's investments, along with other public and private partners, will bring a total of $13.4 million in new investments to Alabama.
"The Delta Regional Authority's SEDAP program works hand in hand with the priorities of my Administration. Each day, with every decision, I am working to enhance the quality of life for all Alabamians," Governor Ivey said. "I am grateful for the partnership of the DRA and other public and private partners to invest $13.4 million to seven improvement projects in our Black Belt region. When we invest in infrastructure, workforce development and business projects, we are investing in our people."
Summary of DRA's statewide investments:
7 projects
DRA investments: $1,157,066
Total investments: $13,421,555
Jobs created: 300
Workers trained: 100
Families affected: 3,052
"Our investments support vital infrastructure improvements that will strengthen economic development, lead to new jobs, boost workforce training and development, and deliver safe drinking water to improve the lives of folks in the Black Belt," Caldwell said. "This is just one example of DRA's commitment to building infrastructure that will make Alabama more competitive."
Alabama's congressional delegation issued the following statements:
"Delta Regional Authority is dedicated to improving Alabama's infrastructure and economy by providing this critical funding throughout the Black Belt region," said U.S. Sen. Richard Shelby R-AL.  "The projects made possible by these investments will drive job creation, enhance workforce training, and ensure our state's ability to compete on a national stage. I am proud of the work DRA is doing and look forward to collaborating with Chairman Caldwell and his staff on projects that support and benefit Alabama."
"The Delta Regional Authority's investments will support critical workforce and infrastructure needs in these Alabama communities," said U.S. Sen. Doug Jones, D-AL. "The updates to water and wastewater systems are especially important to make sure folks have safe drinking water and healthy homes for their families. I applaud the DRA for continuing its long-standing commitment to providing greater economic opportunity and a higher quality of life in every corner of Alabama."
"I am grateful to the Delta Regional Authority for their continued investment in rural Alabama. Specifically, the Brewton technology park project will help bring more high-tech, good-paying jobs to Alabama," said U.S. Rep. Bradley Byrne (AL-01). "Despite what you may hear, rural America is continuing to thrive and grow, and that is a testament to organizations like the Delta Regional Authority who continue to invest and support our rural communities."
"The Delta Regional Authority's sizable investment in workforce development will spur continued economic growth, create new jobs, and train a skilled workforce to fill these jobs," said U.S. Rep. Martha Roby, (AL-02). "I am grateful for DRA's commitment to growing Alabama's economy while making sure our state is a great place to live for all people, and I am eager to see the improvements delivered."
"The investment announced today by the Delta Regional Authority is going to have a powerful impact for Alabama's working families," said U.S. Rep. Terri Sewell, (AL-07). "By bringing more resources and better opportunities to Alabama's Black Belt, we are empowering rural families to build a better life for themselves and their communities. Thank you to DRA and to the public and private partners who have made a continued commitment to expanding and strengthening public infrastructure in Alabama."
DRA investments are made through its States' Economic Development Assistance Program (SEDAP), the agency's main federal funding program that invests in basic public infrastructure, transportation infrastructure, workforce development, and small business and entrepreneurship projects.
Alabama economic development projects:
CITY OF BREWTON: New Technology Park. DRA Investment: $300,000. Total Investment: $5 million. Brewton is converting the former Dogwood Hills Golf Course, a city-owned property, into a new Brewton Technology Park to support its first project and tenant, an information technology company that is projected to bring 300 new jobs to the community. The business also will provide training for those workers. DRA's investment will allow the purchase and installation of sewer mains, water lines and other infrastructure development to support a 30,000-square-foot facility. About 2,732 families will gain improved water and sewer service as a result of the investment.
TOWN OF MIDWAY: Medical Clinic and Pharmacy. DRA Investment: $200,000. Total Investment: $302,165. Midway will revitalize and improve the old Merritt School, which has experienced significant deterioration since it closed in 2011. The 30,000-square-foot building will be renamed the Merritt Community Complex and include a medical clinic and pharmacy to increase access to healthcare and promote wellness.
CITY OF MARION: Water Infrastructure. DRA Investment: $185,936. Total Investment: $6.1 million. DRA's investment will be combined with a $5.9 million investment from the U.S. Department of Agriculture to deliver safe drinking water to 125 families in the Perry County community. Area residents now get their drinking water from wells that are susceptible to contamination.
TOWN OF AKRON: Wastewater Infrastructure. DRA Investment: $155,000. Total Investment: $161,565. DRA's investment will provide sanitary sewer service to 185 families by upgrading deteriorating equipment and infrastructure. Improving wastewater treatment will help sustain a senior center, fire station, post office, local store and six churches that serve the community.
CITY OF CAMDEN. Water Infrastructure. DRA Investment: $125,000. Total Investment: $184,661. To get safe drinking water today, families have to travel to neighbors' homes or to a roadside faucet to fill up containers with water. This investment will deliver safe drinking water to the homes of these 10 Camden families who live along Willie Powell Road.
CITY OF MONTGOMERY. Workforce Training and Development. DRA Investment: $105,050. Total Investment: $1,475,676. The Alabama Forestry Foundation's continuing initiative to prepare, recruit and train rural students so they can gain jobs in the industry is being supported by DRA's investment. The foundation is working with K-8 teachers to improve math and science skills for students and promote career opportunities. The foundation also is working on the high-school level to implement a certification program for students and to give them a basic understanding of the jobs available in the forestry industry. About 100 individuals are projected to be trained in programs that are being implemented in 20 of Alabama's 67 counties.
CITY OF SELMA. Infrastructure Improvements. DRA Investment: $86,080. Total Investment: $86,080. DRA's investment will support the emergency removal and replacement of corrugated metal pipe along a drainage easement in the LaForet Estates subdivision. The deteriorating pipe has created five sinkholes, presenting a danger to families living in the area.
About the Delta Regional Authority
The Delta Regional Authority is a federal-state partnership created by Congress in 2000 to help create jobs, build communities, and improve lives through strategic investments in economic development in 252 counties and parishes across eight states. DRA has invested more than $185 million into more than 1,100 projects. Overall, DRA investments have helped create and retain more than 55,000 jobs, train nearly 45,000 workers to advance in the 21st Century, and deliver sewer and water improvements to more than 238,000 residents and businesses. Learn more at dra.gov.
###
Photo Gallery:

Provided by the Office of the Governor of Alabama | governor.alabama.gov