Governor Ivey Signs Alabama Broadband Accessibility Act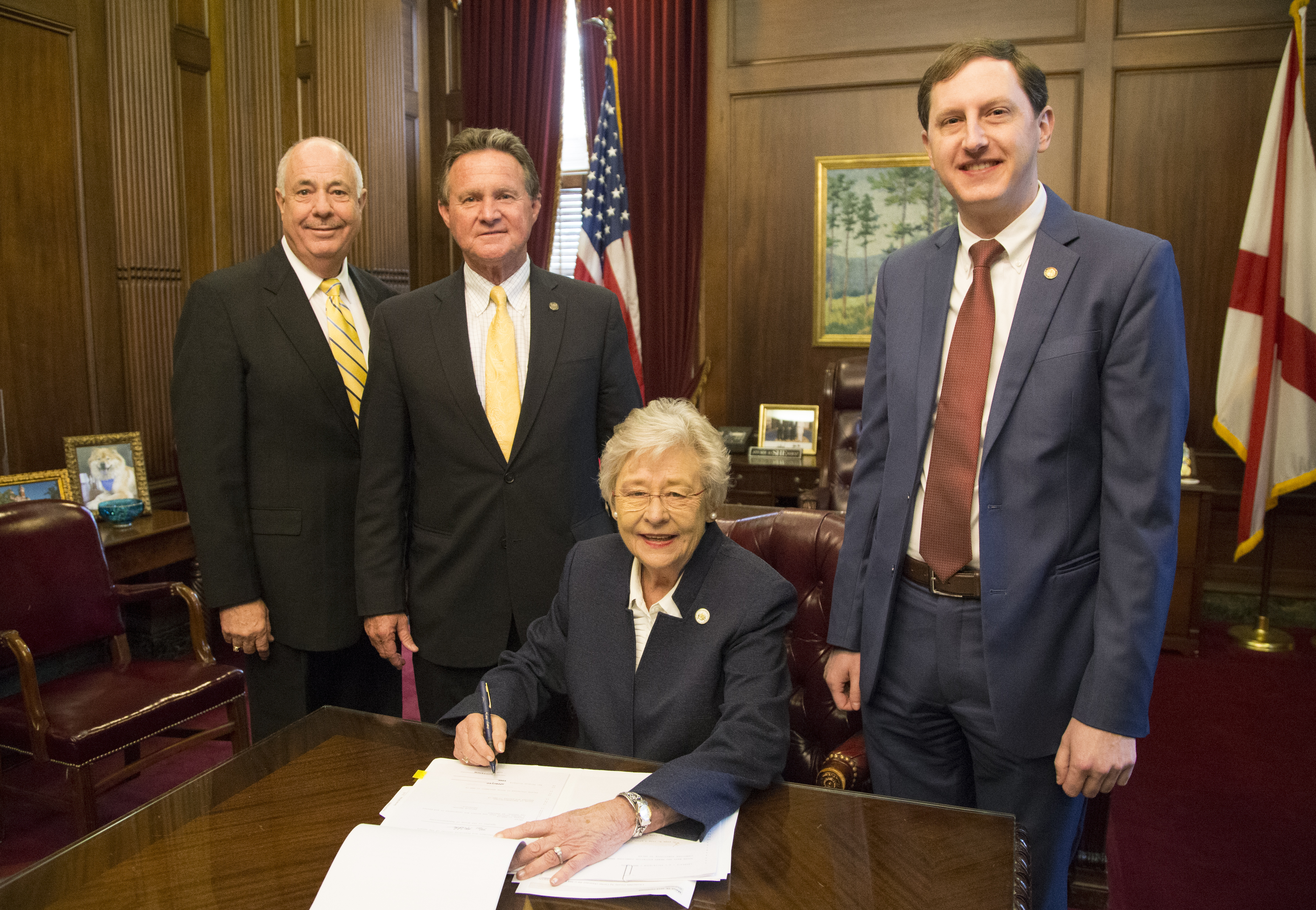 MONTGOMERY— Governor Kay Ivey on Wednesday signed into law SB149, the Alabama Broadband Accessibility Act, authorizing the creation of a broadband accessibility grant program to be administered by the Alabama Department of Economic and Community Affairs. The bill, sponsored by Senator Clay Scofield and Representative Donnie Chesteen, also creates the Alabama Broadband Accessibility Fund.
In Alabama, there are more than 842,000 people without access to a wired connection capable of 25mbps download speeds. Over 1 million people in Alabama have access to only one wired provider and another 276,000 people in Alabama don't have any wired internet providers available where they live.
"The internet is vital to economic development, health, education, and to be honest, all areas of our modern life. This common sense legislation will help us attract new broadband to areas that need it most, especially in rural Alabama," Governor Ivey said. "I congratulate Senator Scofield and Representative Chesteen for a job well done in seeing this bill through the legislature. It is just another step forward as we improve access to high-speed internet sooner rather than later."
"As a senator and a resident of a rural part of Alabama, I understand the need for broadband expansion across our state. With this expansion we can see more growth in our economy, our residents can find better health care and there will be more opportunity for our students to learn. I appreciate Governor Ivey for fully supporting our efforts to improve life in rural Alabama," Senator Clay Scofield said.
"I was proud to carry this important legislation in the House of Representatives. As a representative of the citizens of rural Alabama, I see first-hand how a lack of internet connectivity limits the growth of communities. It is important that we get this new program up and going so that our rural communities will be able to take part in the economic growth that our larger areas are seeing," Representative Donnie Chesteen said.
Through this legislation Alabama encourages accelerated private investment in broadband infrastructure by telecommunications companies, cable companies and electric cooperatives in rural areas. Grants awarded by ADECA under this act may only be awarded for projects in unserved areas.
"The availability of high-speed internet is a critical infrastructure issue in rural Alabama because it is a vital component in today's world for education, health care, emergency services and economic development," ADECA Director Kenneth Boswell said. "The Alabama Broadband Accessibility Act gives the state a valuable new tool. With Governor Ivey's support, ADECA will work under this new grant framework to facilitate the expansion of broadband in rural areas of Alabama that currently lack high-speed internet."
Alabama will further be helped by a pilot program, grants and loans from the federal government. Last week, Congress, through an effort led by Alabama Congressman Robert Aderholt, included in the omnibus spending bill a $600 million Broadband Pilot Program, created by the Secretary of Agriculture, which will enable applicants to finance a project by combining loans and grants to provide broadband to eligible rural and tribal areas.
"This new federal pilot program will help boost broadband expansion in Alabama and around the country. It is a testament to the Trump Administration's commitment to improving the lives of rural America," Governor Ivey added. "I thank Congressman Aderholt for leading the charge on this effort. In Alabama, we plan to take advantage of every opportunity that is provided us, in order to ensure every Alabama citizen has proper access to this vital aspect of our modern-day infrastructure."
The newly created federal investment will leverage nearly $1 billion in total new rural broadband projects across the country.
###
Provided by the Office of the Governor of Alabama | governor.alabama.gov