Health Care
Governor Kay Ivey has worked to protect the health of Alabamians through recent changes designed to improve Alabama Medicaid, which provides health coverage for about 1 million lower-income and disabled people. The governor appoints the state Medicaid commissioner.
Governor Ivey also has supported efforts to expand behavioral-health services for many children and youth, to reduce infant mortality and opioid overdoses, and to require state licensing at more child-care centers.
Improving Alabama Medicaid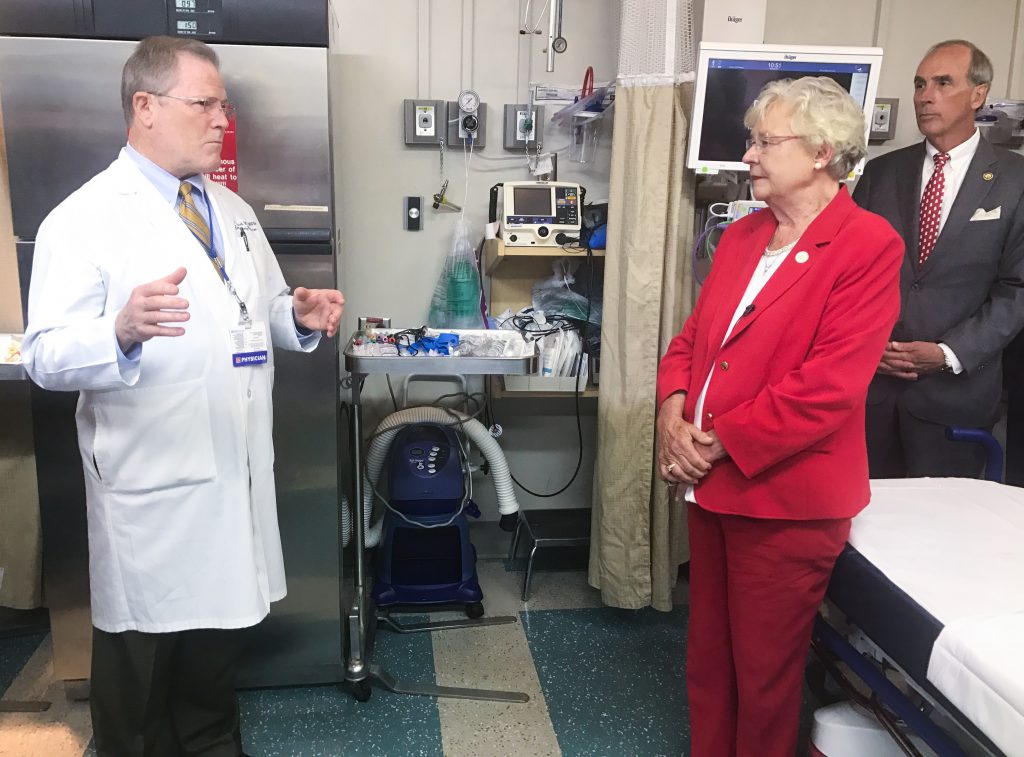 Alabama Medicaid in October 2019 started coordinating the health care of 750,000 Medicaid beneficiaries through seven regional Alabama Coordinated Health Networks (ACHNs), non-profit organizations created to help patients understand their medical conditions and treatments and get the appointments, medications, and transportation to care that they need.
The ACHNs are backed by Viva Health (two ACHNs), the University of South Alabama (one), Huntsville Hospital (one), and an affiliate of Blue Cross and Blue Shield of Alabama (three).
ACHNs are paid by Alabama Medicaid, up to prearranged caps, for the type and frequency of case management performed by their social workers, nurses, pharmacists, and other employees who talk with Medicaid beneficiaries.
Each ACHN also can get bonuses for reaching quality benchmarks for: well-child visits for babies, measurement of body-mass indexes, counseling for obese children and teens, medication management for asthma and depression, the number of low-birthweight babies, timeliness of prenatal care, treatment for abuse of alcohol or other drugs, and access to primary care for children and teens.
Each ACHN also must have a quality-improvement project aimed at each of the following: reducing or treating obesity, infant mortality, and substance-use disorder in its region.
Primary-care physicians who treat beneficiaries in an ACHN network can get bonuses for meeting similar quality standards, providing cost-effective care, and offering patient-centered medical homes, which coordinate health-care referrals and offer 24/7 phone-call coverage.
The driving force behind ACHNs is the belief that better primary care, improved coordination of each patient's health care, and improved rates of obesity, low birthweights, and other health challenges will over time improve people's health and reduce the growth in health-care costs.
The federal Centers for Medicare and Medicaid Services (CMS) approved Alabama Medicaid's ACHN program.
Alabama Medicaid in October 2018 started overseeing care through Alabama Select Network for about 24,000 Medicaid beneficiaries, mostly 65 or older, who live in nursing homes or receive in-home services and supports to help them keep living in their homes.
Alabama Select Network is a for-profit company, formed in part by nursing-home owners and subsidiaries of Blue Cross and Blue Shield of Alabama and of Blue Cross and Blue Shield of Tennessee. Alabama Medicaid pays the company a per-member, per-month amount for helping to direct people to the most-appropriate settings for their needs. Alabama Select Network can earn bonuses if, over time, there is an increase in the percentage of people receiving in-home services among people eligible for Medicaid's long-term services and supports. In-home services on average are less expensive than nursing-home care.
The oversight system now run by Alabama Select Network is called an Integrated Care Network (ICN). It was developed by Alabama Medicaid at the direction of the Alabama Legislature, and approved by CMS.
Governor Ivey in October 2019 released an extra, conditional state appropriation that, combined with matching federal dollars, will provide in Fiscal Year 2020 a total of $78 million in extra payments to state hospitals for treating Medicaid beneficiaries.
Governor Ivey released the $22 million conditional appropriation of state dollars for Alabama Medicaid to increase reimbursements to hospitals for treating Medicaid beneficiaries.
The $22 million in state money will allow hospitals, through Alabama Medicaid, to receive an additional $56 million in matching federal dollars in FY 2020, which ends Sept. 30, 2020.
For comparison, Alabama Medicaid's total spending for hospitals totaled $2.29 billion in FY 2018.
The state operating budget for FY 2020, which legislators and the governor approved in the spring of 2019, authorized Governor Ivey to release the conditional state funds to Medicaid if the state General Fund had the money, the state finance director recommended its release, and the governor approved. Alabama Medicaid Commissioner Stephanie Azar said the extra money will "help hospitals provide vital services."
Alabama Medicaid in 2018 asked federal officials for permission to impose work or training requirements on some of the 75,000 parents or other caretakers of Medicaid-eligible children who are themselves covered by Medicaid because their household income is 18 percent or less of the federal poverty level.
The application is on hold, however, as several federal courts have struck down or blocked other states' attempts to make work or training a condition of Medicaid coverage.
Requiring State Licensing of More Child-Care Centers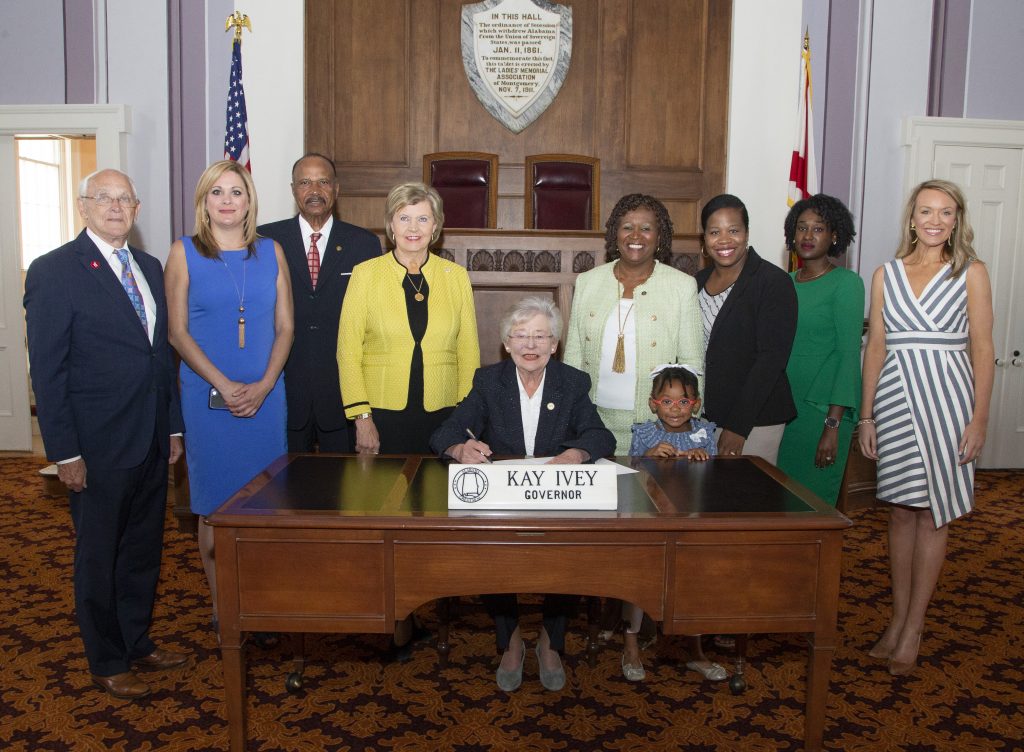 Governor Ivey signed a law that required hundreds of child-care centers to be licensed for the first time by the Alabama Department of Human Resources (DHR).
The law's stiffer licensing requirement took effect Aug. 1, 2019.
The number of unlicensed child-care centers in Alabama dropped from 834 on Sept. 30, 2018 to 537 on Jan. 22, 2020. The number of child-care centers licensed by DHR rose from 969 to 1,274 in that time.
Formerly, Alabama law exempted from DHR licensing any child-care center operated as part of a church ministry or a non-profit religious school.
That exemption still is in place for hundreds of child-care centers. But the law signed by Governor Ivey said that starting Aug. 1, 2019, that exemption could not include any child-care center that received state or federal funds, operated for profit, or had at least one enrolled child who received a child-care subsidy from DHR.
The law also requires unlicensed child-care centers to be inspected at least annually by local fire and health departments. It also requires unlicensed child-care centers annually to provide DHR proof of compliance with fire and health inspections, proof of insurance, employee criminal-background checks, and, if requested, immunization records of all children.
DHR inspects child-care centers to ensure they meet safety and adequacy standard for building space and fixtures, storage of cleaning materials and medicines, playgrounds, and toys, books, and other equipment, for instance. DHR also reviews staff training and criminal-background checks, and child-to-staff ratios.
Expanding Behavioral Health Services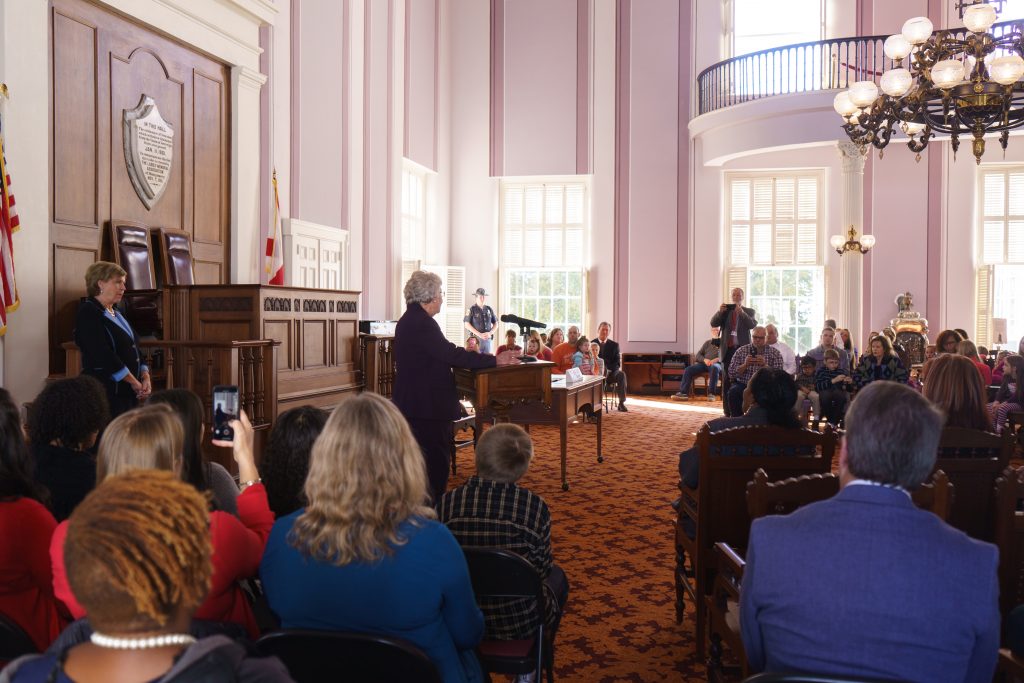 Governor Ivey in October 2017 signed an agreement under which state dollars totaling $3.25 million in Fiscal Year 2018, $11 million in FY 2019, and $11 million in FY 2020 were appropriated to expand behavioral health services for Medicaid-eligible children and youth with severe emotional disturbance or autism spectrum disorder.
The money is match-able by federal Medicaid dollars, so $11 million in state money attracts about another $28 million in federal money for the services.
The state money has come from new appropriations proposed by Governor Ivey and approved by the Legislature, and from reallocations of money by Alabama Medicaid, the Alabama Department of Human Resources, and the Alabama Department of Mental Health.
The agreement signed by Governor Ivey also was signed by leaders of two nonprofit advocacy groups, the Alabama Disabilities Advocacy Program and the Center for Public Representation, who helped develop the agreement and have monitored progress as state officials have provided and prepared for services outlined in the agreement for thousands of children and youth. The services include intensive care coordination, therapeutic mentoring, and in-home therapy or intervention.
Addressing Infant Mortality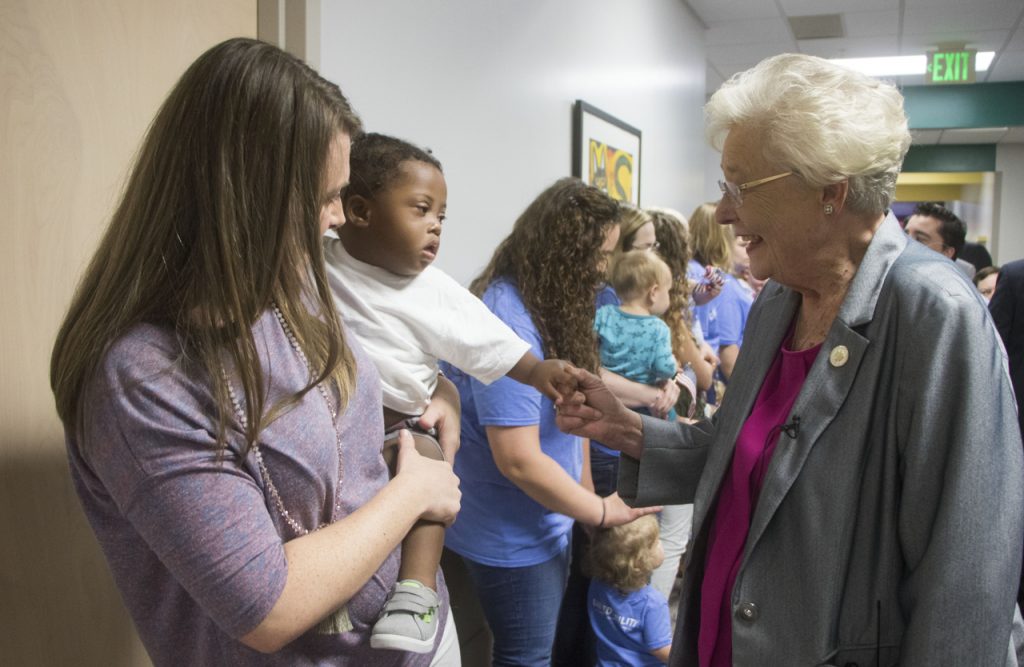 Governor Ivey proposed and the Legislature approved spending an extra $1 million in FY 2019 and again in FY 2020 through the Alabama Department of Public Health (ADPH), to try to reduce infant mortality.
The Alabama Children's Cabinet, which the governor chairs, suggested that ADPH spend the money on pilot programs aimed at reducing by 20 percent infant-mortality rates in Montgomery, Macon, and Russell counties over five years.
Money is being spent in part to expand home-visitation programs such as the Nurse-Family Partnership and Parents as Teachers, in which nurses or peer specialists talk with and coach new mothers and meet their babies.
Money also is being spent on a program that provides care to women of childbearing age. The program screens and evaluates women for chronic medical diseases and social needs and makes referrals for needed care or services.
Combatting Opioid Abuse
Governor Ivey supported and the Legislature approved spending $1.1 million in FY 2019 and again this year to improve the Prescription Drug Monitoring Program (PDMP), in part by making it easier to use.
Pharmacists and other health-care providers who dispense opioids must report the prescription information to the PDMP. The PDMP can be used by physicians, dentists, pharmacists, and other health-care providers to see if a patient already has been prescribed opioids.
Governor Ivey in 2018 signed into effect a law that made it a crime to traffic in fentanyl and carfentanil, synthetic opioids that are much more potent than heroin.
Passing that law and improving the PDMP were recommended by the Alabama Opioid Overdose and Addiction Council, which the governor formed in 2017 to address the overdose crisis in Alabama. The Council is led by state Mental Health Commissioner Lynn Beshear, State Health Officer Scott Harris, and state Attorney General Steve Marshall.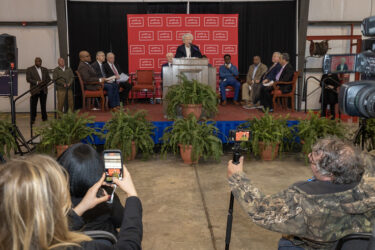 MONTGOMERY – Governor Kay Ivey on Friday announced that Resicum International LLC, which provides flight training and maintenance support to government, commercial and general aviatio…