Governor Ivey's State of the State Address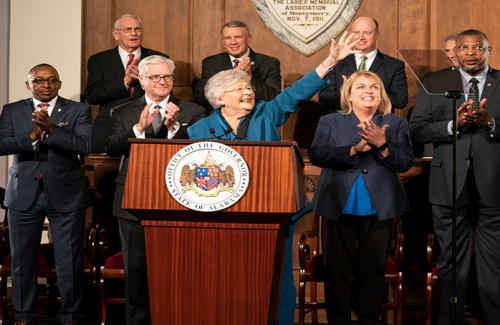 Governor Kay Ivey delivered the annual State of the State Address to a Joint Session of the Alabama Legislature on Tuesday, February 4, at 6:30 p.m. (CST) in the Old House Chamber of the State Capitol.
The governor invited Brandie McCain, John Carroll, Carl Flemons, Joanne Williams and Shanice Williams to join her as her guests at this year's Address.
Brandie McCain was previously incarcerated and was among the first group of Ingram students to earn the nationally recognized Certified Logistics Associate credential from the Manufacturing Skills Standards Council.
John Carroll is a retired Army Veteran that was struggling to find gainful employment until he was assisted by the Alabama Department of Labor and the Decatur Career Center.
Carl Flemons is a veteran's representative at the Department of Labor and helped John Carroll find a place of employment.
Joanne and Shanice Williams are the wife and daughter of the late Lowndes County Sheriff "Big John" Williams, who tragically lost his life in the line of duty in November of 2019.
View Governor Ivey's speech here.
Photo Gallery:
Full Video:
Provided by the Office of the Governor of Alabama | governor.alabama.gov